Elden Ring is the long awaited game from Dark Souls developer FromSoftware, made in collaboration with Game of Thrones' creator George R.R. Martin.
If you've ever dabbled in the Souls series, you'll have a pretty good idea of what you're in for. The lengthy gameplay trailer which debuted at Summer Game Fest, followed up by new hands-on videos, suggests that Elden Ring has the potential to be one of the most expansive and detailed dark fantasy games we've seen in a while. 
With Dark Souls creator Hidetaka Miyazaki and G.R.R. Martin's names on the project, existing FromSoft fans will undoubtedly be on board, while Martin's fans with no experience of the series could be tempted to dip their toe in. We've rounded up all the new titbits to keep you up to date with the latest Elden Ring news, so read on for more details. 
Elden Ring latest news (updated January 11)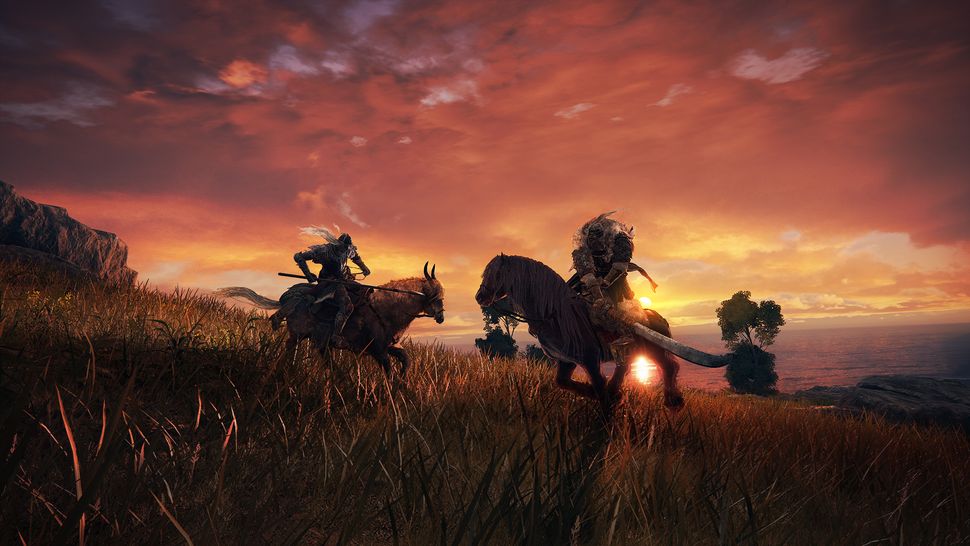 Elden Ring trailer
The first Elden Ring trailer dropped at E3 2019, and for a long while, it was the single largest source of information we had about the game. As with previous FromSoft titles, the story and setting seem somewhat obscure, but nevertheless, two minutes of dark fantasy cutscenes is catnip to Souls fans and that's what they got.
Following the trailer, we didn't hear anything for a long while — until leaked gameplay footage was doing the rounds earlier this year. The snippets of video were likely from the latest trailer that was featured at Summer Game Fest 2021.
The Elden Ring trailer showed off more cutscenes as well as gameplay footage. The world looks huge and is brimming with delightfully weird and wonderful creatures; and that includes some spectacularly nightmarish monsters you'll be pitted against.
One of the most notable aspects of the trailer is the addition of a mount. The player character is seen bounding around the landscape on a horse sporting a pair of cow horns. Even more astounding is that the beast is getting some serious air when it jumps up the side of a cliff. 
Another portion of the trailer depicts an impromptu spot of jousting, so we may have horseback combat to look forward to as well. 
With Elden Ring closing in on its Feb. 25, 2022 launch, Bandai Namco gave fans a 20-minute gameplay deep dive. This was a great opportunity to see the game running with its lush open world on full display. Gameplay-wise, there are elements that feels like it's part Assassin's Creed and part Demon's Souls. It makes for a compelling, if bleak, package.
Elden Ring release date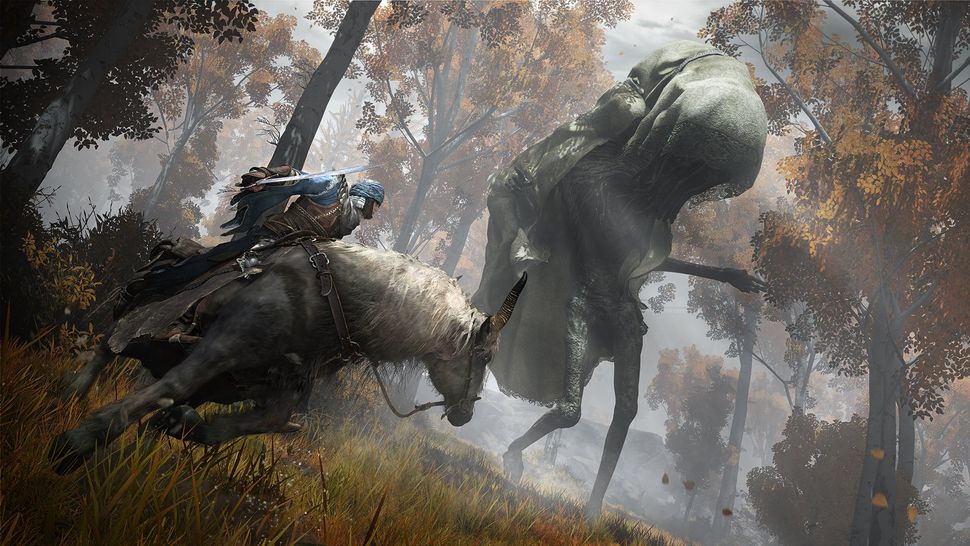 Elden Ring will be releasing for PC (via Steam), PS4, Xbox One, PS5, and Xbox Series X|S on February 25, 2022. Originally, Elden Ring was supposed to launch on January 21, 2022, but Bandai Namco delayed the game to give it a little extra polish. 
Bandai Namco has also confirmed that Elden Ring supports Smart Delivery on Xbox Series X|S, as well as a free upgrade to PS5 for players who buy the PS4 version of the game. Given the PS5 restock situation, with the Xbox Series X restocks facing similar difficulties, the free upgrade is a good move from the publisher.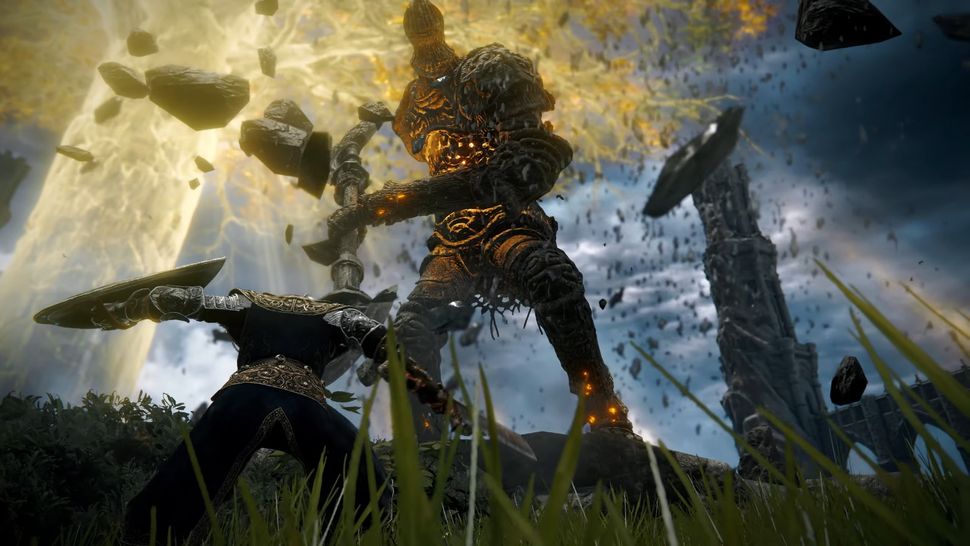 Elden Ring multiplayer
It's official: Elden Ring will feature online multiplayer co-op for up to four players, with Bandai Namco confirming that you can "traverse on foot or horseback, alone or online with friends across grassy plains, suffocating swamps and lush forests."
The trailer appeared to show of summoned characters in a similar vein to the Souls series, with the press release adding, "Charge into battle, pick off enemies one-by-one using stealth, or even call upon allies for aid."
We don't know if there's a PvP element with invasions and such, but hopefully the publisher will elaborate on the multiplayer aspect of the game as it drops more details.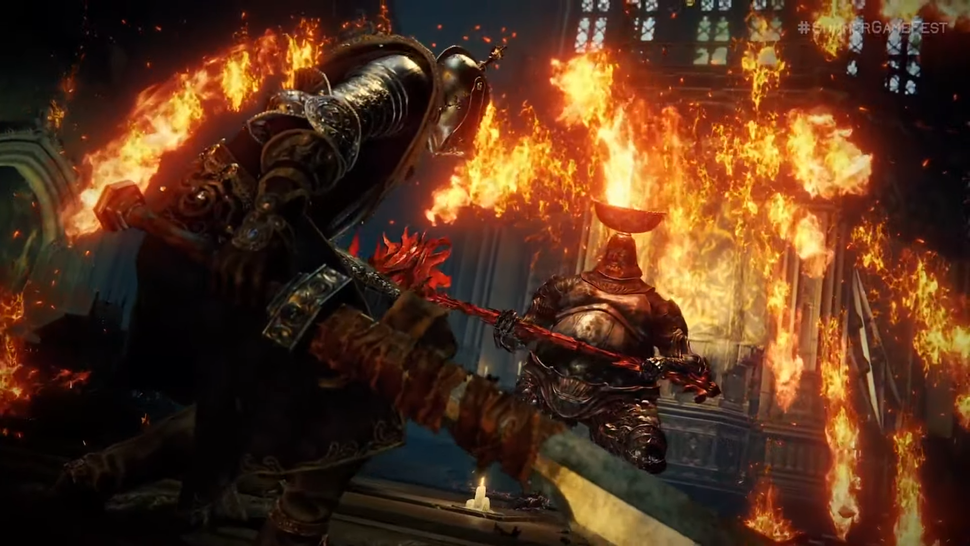 A recent batch of screenshots posted on Twitter by the Elder Ring account have shown off some of the multiplayer elements. The most striking shot comprises a trio of players taking on a giant ace-wielding automaton. 
How often such encounters will happen in the game remains unclear, but it looks like jolly cooperation will play a part in Elden Ring. 
Elden Ring pre-order
You can pre-order Elden Ring at Amazon, Best Buy and similar sites. The PS4 and Xbox One versions are available now, but the PS5 and Xbox Series X versions haven't gone live at the time of writing.
Of course, as we mentioned above, the PS5 and Xbox Series X upgrade will be free for players who purchase last-gen versions of the game, so if you don't want to wait to place your pre-order, you can go ahead and order without worrying about whether you'll have to buy a second version of the game.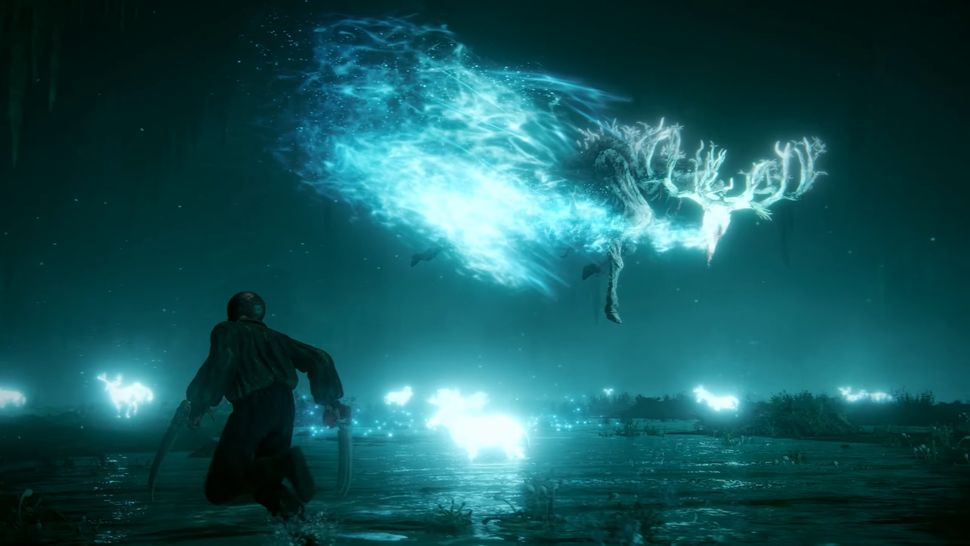 Elden Ring story
The Elden Ring website is live now and has been updated with a big ol' blurb that summarises the game's plot. Admittedly it still sounds pretty vague, and there's a lot of references to things tossed in here that mean absolutely diddly squat without further context, but that's par for the course with FromSoft titles:
"The Golden Order has been broken.
 "Rise, Tarnished, and be guided by grace to brandish the power of the Elden Ring and become an Elden Lord in the Lands Between.
"In the Lands Between ruled by Queen Marika the Eternal, the Elden Ring, the source of the Erdtree, has been shattered.
"Marika's offspring, demigods all, claimed the shards of the Elden Ring known as the Great Runes, and the mad taint of their newfound strength triggered a war: The Shattering. A war that meant abandonment by the Greater Will.
"And now the guidance of grace will be brought to the Tarnished who were spurned by the grace of gold and exiled from the Lands Between. Ye dead who yet live, your grace long lost, follow the path to the Lands Between beyond the foggy sea to stand before the Elden Ring.
 "And become the Elden Lord."
Director Hidetaka Miyazaki adds, "With Elden Ring, we have applied all our dark fantasy and action-RPG expertise cultivated throughout the Dark Souls series, in order to create a bold, classical evolution of the genre.
"We've crafted a rich world with a staggering sense of scale, based off of legends written for the game by George R. R. Martin. Elden Ring is a world full of mystery and peril, ready to be explored and discovered; a drama in which various characters flaunt their own mystique and ulterior motives. We sincerely hope you enjoy experiencing it for yourself."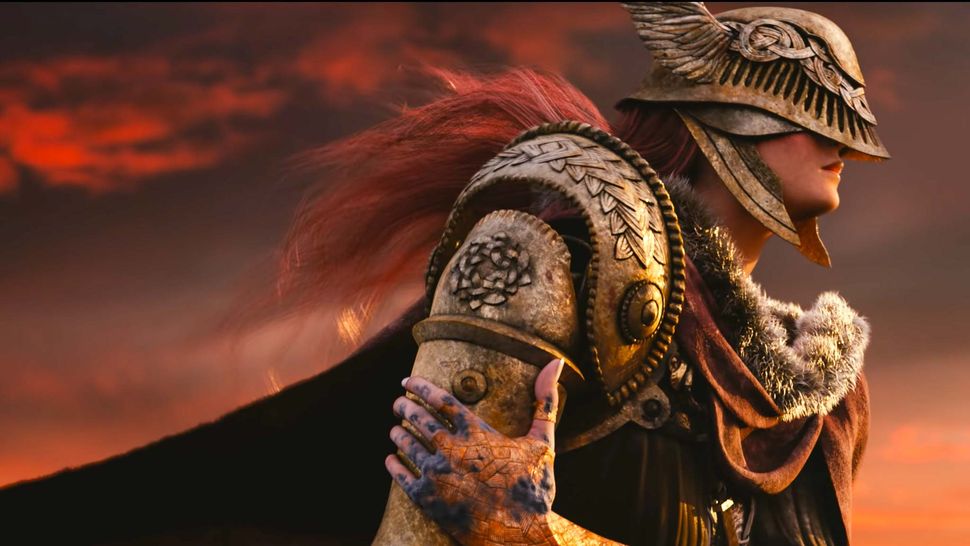 Elden Ring gameplay
Elden Ring is set to be FromSoftware's "largest game to date" with "shadowy, complex dungeons that are connected seamlessly." As well as what looks like an open-world that's large enough to warrant getting about on horseback, you can expect to explore "grassy plains, suffocating swamps, spiraling mountains, foreboding castles and other sites of grandeur on a scale never seen before in a FromSoftware title" and you can do so "on foot or on horseback, alone or online with other players."
There won't be any towns, however, offering dungeons and explorable ruins instead. This shouldn't come as a surprise to any long-time Souls fans, as those games don't have dedicated towns, either; just a single safe "hub" area, where non-player characters congregate after you recruit them out in the world.
You'll be able to create your own character and "define your playstyle by experimenting with a wide variety of weapons, magical abilities, and skills found throughout the world."
When it comes to making your way through the world, "Many options are at your disposal as you decide how to approach exploration and combat." So you can opt to be a stealthy lone wolf, a four-strong gang going in guns blazing, and everything in between.
Elden Ring will also feature dynamic weather, as well as day-and-night cycles that aren't contingent upon particular events in the game, but just tick along regardless of what you're up to. When it comes to NPCs, who have always been interesting characters in the studio's other games, Elden Ring boasts "adversaries with profound backgrounds" who all have their own "unique motivations for helping or hindering your progress."     
Expect Elden Ring to not be an easy game, with it presenting challenging but not insurmountable combat. This may rekindle the whole debate around game difficulty and the lack of an easy mode, but our own Tony Polanco want to put that discussion to bed. 
It's not just intense difficulty that From Software games are known. Soulsborne games are also notorious for their character creation tools, which typically allow for bizarre-looking avatars to be crafted. Elden Ring appears to be no different in this department. 
An incomplete version of the character creator from Elden Ring has leaked online, via VGC, and while the original YouTube video showcasing the character creation systems has been removed there are still plenty of images (like the one above) circulating online. We look forward to building our own oddly proportioned champion next month.