Remember when Apex Legends got hacked with a "Save Titanfall" campaign last month? What about the Titanfall attacks that made the game unplayable? Apparently, these two are caused by the same group of individuals who plotted this for months/weeks, and managed to fool a ton of people in the process.
This tangled web of deception, lies and connivance from different members of the Titanfall community, and as such, is a long read. We've posted a tl;dr version of it, but for the sake of transparency, have also posted what we know of it.
First off, the people behind SaveTitanfall website, has nothing to do with any of the attacks, even if some assumed they were given the pop-up messages that appeared on Apex Legends players' screens back in the first week of July. In addition to that, the website has now posted a lengthy letter explaining how certain members of the Titanfall and Apex Legends community, and even a Titanfall subreddit mod have worked together to not only hack Apex Legends, but to attack Titanfall.
The SaveTitanfall website has uploaded a download file that includes videos, screenshots of chats and more of the group's wrongdoings complete with their Discord names where you can clearly see how the group was planning the Apex Legends hack as early as February of this year. The same screenshots show these people talking about putting the game in a compromised state, and in another screenshot, deny they are involved and state they are not connected to the hacks (though the overwhelming evidence points to otherwise).
Here's the letter posted by the people over at SaveTitanfall and talking about the controversy, and how hackers are manipulating the game and assuming people's identities:
Transparency to the community

The problem

The Titanfall community has been dealing with groups of hackers who manipulate the game and assume peoples' identities in addition to members in the community who doxx and harass, both as individuals or coordinated groups. Amidst the chaos, we have a community made out of people who love Titanfall.

This is not only the story of gamers who cannot play the game that they paid for: we are human beings who built and invested time in the community. We are the community. We build relationships, share our creativity, teach each other and help each other. Titanfall is only the background dressing.

Not only are doxxing, harassment and hacking illegal, but they are also destructive towards the Titanfall community. We should not let a handful of individuals speak in the name of what we've built– they are willing to sacrifice this for their personal interest.

Their campaign of misinformation led to many victims due to doxxing and harassment as well as lies and manipulation.
All of this happens while Respawn watches their our community torn apart while selling broken products menu simulators. Should we blame everyone working at Respawn Entertainment? No; a video game is the passion and labor of many individuals working as a team over the span of years.

They are being held from acting by the ones who manage the studio; they are not being respected and neither is the community.
The letter then points to the download file that contains a boatload of evidence against these people. We've downloaded it, and it's safe, but proceed at your own risk.
Here are some of the main players involved with this hacking movement, which might be familiar to some people in the Titanfall and Apex Legends communities.
There's "RedShield," who's the admin/owner of the Remnant Fleet Discord channel — a channel that exploded in members and popularity after the July Apex Legends hack. Here's a screenshot of RedShield talking about not holding Titanfall 2/Apex for ransom, but instead doing it as a publicity stunt:
An individual named "p0358" who's an admin for the Remnant Fleet Discord, and has even posted a "full tutorial" on how to fix Titanfall, and has claimed they are not part of the hack whatsoever. This individual has even posted a "tutorial" on how to save Titanfall, and has gotten heaps of praises from the community. Note that we reached out to p0358, and refrained from sharing this fix on the site due to insufficient info that was shared to us by p0358.
Here's a screenshot of p0358 denying their involvement of the hack:
And here's a screenshot of the same person talking about the hacking and how they should "restore" the on-server lobby:
"dogecore" — a person adept at hacking, and is closely associated with and working with p0358 and RedShield. On July 3 — a day before the Apex Legend hack — he even posted this message on the Remnat Fleet Discord secret channel:

There's also a "Mr. Steak" who showed screenshots of how they were able to manipulate the Apex Legends game client to show custom text: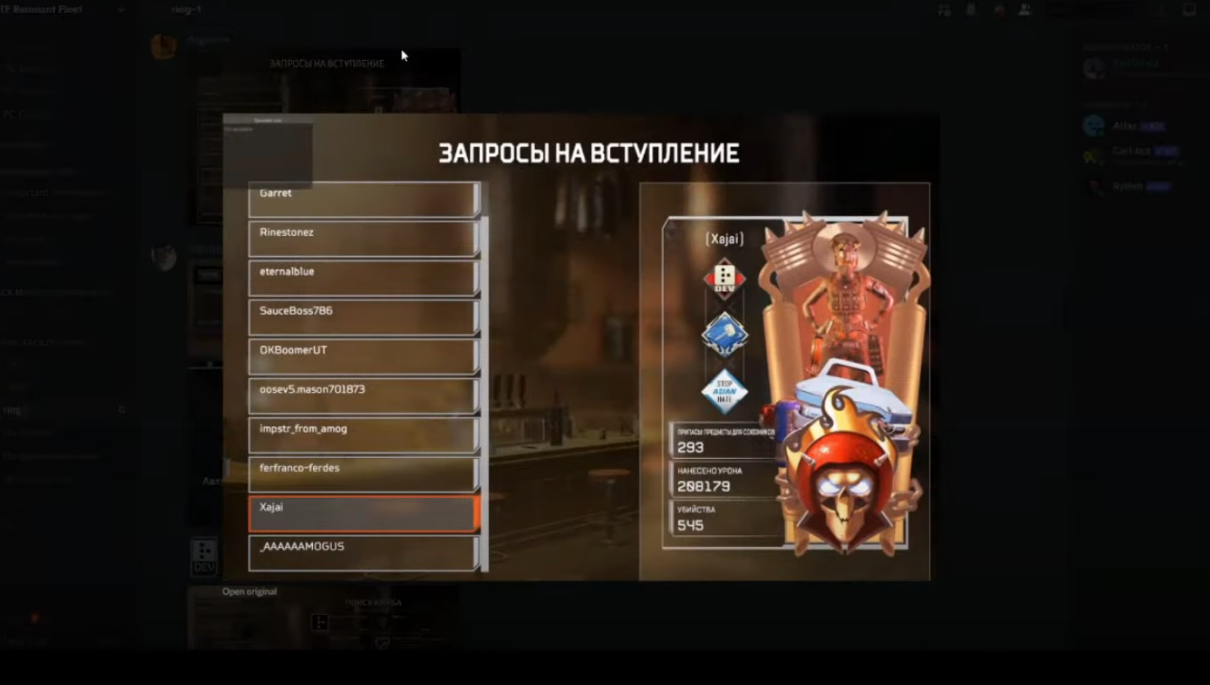 A Titanfall subreddit mode named "hiticonic" has also been removed for his involvement in all of this.
What's the group's motivation for doing this? Apparently, to gain control of the Titanfall 1 servers and even the game! RedShield, who was in contact with Eurogamer regarding the Apex Legends hack had this to say: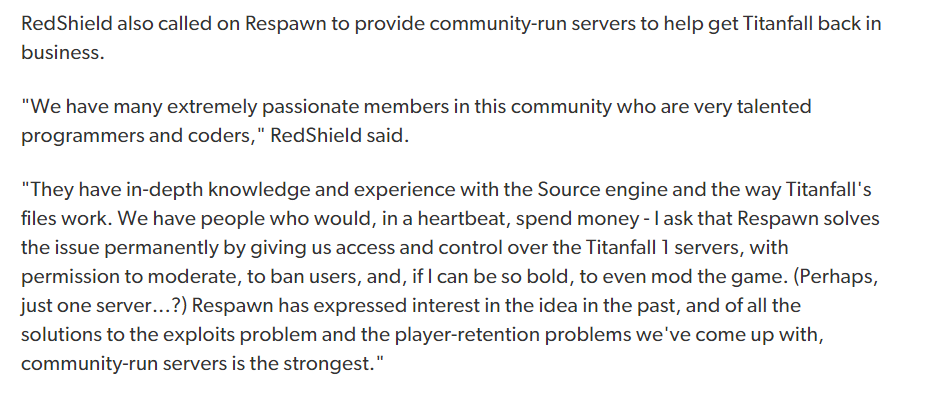 In addition to that, hundreds of screenshots have surfaced where p0358 — the same person who said they knew how to save Titanfall — states that they do not care if Titanfall dies, and how "TFO" (Titanfall Online) can benefit from it.
Not familiar with Titanfall Online? It was a cancelled, free-to-play version of Titanfall 1 which was then being developed by Nexxon. It had a beta launch in South Korea back in 2016, but had its servers shutdown in 2018.
Apparently, p0358 is attempting to resurrect Titanfall Online, and is working alongside RedShield, dogecore, and Mr. Steak. but in order to do so, need more access to the Titanfall infrastructure and source code which is, of course, owned by Respawn.
The file hosted by SaveTitanfall has loads of chatlogs that show the motivation and what other stuff these people are doing (one is involved in the development and seling of Apex Legends cheats), and more.
The Titanfall subreddit has this post pinned at the top and making sure Titanfall fans are aware of the duplicity and damage caused by these individuals:
Regarding the SaveTitanfall.com Post from titanfall
YouTuber Upper Echelon Gamers has uploaded a 20-minute video explaining the expose in-depth, which you can watch below.
Hopefully, Respawn takes notice and takes appropriate action on this. Once we know more, we'll report on the facts that surface.